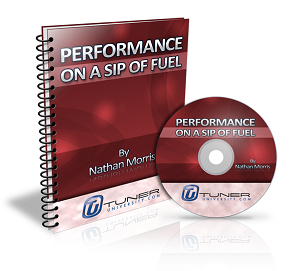 How do you balance performance and fuel economy? What really affects fuel economy and what doesn't matter as much? Does weight loss really help gas mileage, what about an air intake system? When does better performance ALSO mean better gas mileage?
Is there a way to build a fast and fuel efficient car?
All these questions and more were talked about in this Tuner University exclusive class and now you can listen in anytime you like, anywhere you like. In the package you get the full unedited and uncensored recording of the class as it was delivered as well as the 103 companion manual that went along with the class.
Price: $69.95


---
Extremely Limited Time Offer - 3 Days Only
Get a MASTERS DEGREE in Performance Tuning from the BEST in the Field for ONE low package price
For 3 days only, get ALL of our PREMIUM (not available anywhere else) Tuner University Courses featuring some of the greatest minds in motorsports:
- Top 10 Performance Myths Class (MP3 and Edited Transcript) - $29.95 value
- Performance on a Sip of Fuel Class (MP3 and class manual) - $69.95 value
- Header Design Secrets with John Grudynski (MP3 and transcript) - $69.95 value
- Dirty Secrets of Oil with Ryan Stark (MP3 and transcript) - $69.95 value
- Engine Tuning Secrets with Ben Strader of EFI University (MP3 and Transcript) - $69.95 value
Get all of the above courses (many of which not currently available anywhere else) for one single price of just $309.75 $69.95. A HUGE package savings.
You can also buy any of these individually through our resource center, but I don't know why you would as this is basically the whole store for the price of just 1 course. You'll get the MP3 recordings of each class as well as a transcript or companion manual with each course and you'll be able to download them all INSTANTLY.
Claim Yours Now
Click the button above to get yours! ($69.95, instant download)
---