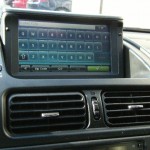 In Project Lexus, I decided that the OEM navigation was far too outdated to deal with. A few IS300s came with factory navigation which at the time (2002-2005) was still sort of a new thing.
Many people now are stuck with OEM navigation which seemed like a great idea at the time but any $100 GPS unit from Wal-Mart can probably blow the OEM system out of the water. This is a story of retrofitting a portable navigation unit into a car with navigation, but I'm sure this could also be done with some non-navigation vehicles for very little money.
This was the case with our IS300.
The OEM navigation was an obvious after thought, one of the two total cup holders in the front was sacrificed to place this weird joystick controller for the navigation unit. The screen looked like a VGA monitor from the 1990s and the interface was frustrating to say the least. Most owners lost the joystick while vacuuming their cars and then Lexus told us we could no t buy the 10 cent piece, we had to buy a $200 cup holder replacement. Nice.
So, let's review: the factory navigation is not touch screen, has no POI navigation, no features aside from the uncanny ability to drive you mad, and a $150+ DVD upgrade every year. No thanks.
I ripped out the navigation brain from the trunk and saved myself 5 lbs, I sold it on eBay for about $250 if I recall correctly. Despite it getting damaged during shipping (as the lasers in the brain of this particular unit are very fragile) and having to pay for the buyer to get it fixed, I still came out of the deal with about $200. Had I had the cup holder joy stick, I could have banked even more.
I started looking for larger portable navigation screens and found the Magellan 1700 (~$150). The Magellan unit had nearly identical screen dimensions to the IS300's factory housing and I had seen a few people sticking these in the non-navigation dash tray on the forums, so I knew the dimensions had to be about the same. One member confirmed they were and said it fit right in - unfortunately, I assumed he meant into the navigation housing but he meant the non-navigation housing. More on that in a moment.
I had seen other screens fit in the IS300 factory housing so I knew the motorized functions of it would still work regardless of having the factory screen removed.
The factory screen came out and saved me another 3 lbs.
I received the Magellan unit as a gift for x-mas and excitedly I went to fit it into the IS300's housing.
Unfortunately, it was too large to fit, but not by much. No problem though, I took the screws out of the back to make sure there were no sensitive bits on the very edges of the Magellan unit. It was all plastic so I taped everything up and got out the dremel to do some light trimming.
I had to remove about 1.5mm from each side, most of which was easily removed as when the screws were out the outermost pieces of plastic actually just remove from the housing. I removed material slowly and kept test fitting every so often.
I was able to fit it in there very snugly so that it should not go anywhere. My only concern is vibration from bumps over the long run. They might cause the unit to slightly move southward but after a month of testing - so far, so good. If nothing else, I'll simply place something under it to hold it in place.
I had to make a little place for the power adapter to plug in and then I was able to run the cigarette adapter down through the dash to be hard wired in at a later time. Very easy.
With many people now faced with factory navigation systems going out of date, this is one very practical way to go about keeping your navigation while also getting better features.
The portable GPS updates are also almost always cheaper. Magellan right now actually has "updates for life" for $79.99 with 4 new map updates a year. Try getting that from Lexus/Honda/Whoever.
I should note that I actually came out ahead (made money) by selling off the old parts that I no longer needed, and as a bonus, the portable unit was several pounds lighter weight than the old OEM version. Something on the order of 7-8 lbs.
We gained a touch screen and some really nice POI features. The Magellan 1700 isn't particularly featured, it doesn't have red light cameras for example, nor does it have speed limits for any roads. However, it is extremely easy to read and it does what it's supposed to do, does it well, and that's about it.
Here's a video of the navigation and the still functioning OEM motorized housing:
Much cleaner than a suction cup on the windshield and looks stock as the day it rolled off the line. I'm a fan.
With some careful measurement, research, and a bit of patience, you can easily replicate something like this in your own vehicle.
---
Extremely Limited Time Offer - 3 Days Only
Get a MASTERS DEGREE in Performance Tuning from the BEST in the Field for ONE low package price
For 3 days only, get ALL of our PREMIUM (not available anywhere else) Tuner University Courses featuring some of the greatest minds in motorsports:
- Top 10 Performance Myths Class (MP3 and Edited Transcript) - $29.95 value
- Performance on a Sip of Fuel Class (MP3 and class manual) - $69.95 value
- Header Design Secrets with John Grudynski (MP3 and transcript) - $69.95 value
- Dirty Secrets of Oil with Ryan Stark (MP3 and transcript) - $69.95 value
- Engine Tuning Secrets with Ben Strader of EFI University (MP3 and Transcript) - $69.95 value
Get all of the above courses (many of which not currently available anywhere else) for one single price of just $309.75 $69.95. A HUGE package savings.
You can also buy any of these individually through our resource center, but I don't know why you would as this is basically the whole store for the price of just 1 course. You'll get the MP3 recordings of each class as well as a transcript or companion manual with each course and you'll be able to download them all INSTANTLY.
Claim Yours Now
Click the button above to get yours! ($69.95, instant download)
---