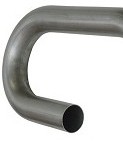 The other day I ran across a useful table in a very old and rare book on Air Conditioner design of all things. You may never have thought about it, but air conditioner ducts need to be relatively well flowing as well to minimize the size of the blower needed to get adequate cooling to the final location and in most cases the runs of ducting are VERY long relative to intake or charge piping for a turbo system.
There are several things that add pressure loss (restriction) to any pipe system, for the purposes of this article we'll focus on length and bends. It turns out that bends have the same effect as adding additional length. In other words, if I have two intake ducts that are 5' long but one is straight and the other has a 90 degree bend in it, the one with a 90 degree bend will flow as poorly as a straight pipe with a longer length.
In summary, it's better to run a longer pipe than to bend it, especially if the bend is very sharp. In the table available to TU Premium subscribers, you'll see exactly how many feet of pipe a bend effectively adds so you can see to what degree a bend might be impeding flow.
This is particularly useful when trying to route intercooler ducting or redesigning an intake or exhaust system as it will allow you to see if that convenient bend is worth it, or if it's really not that big of a deal.
This useful table would be here if you were logged in as a TU Premium Member, not a member yet? Take a $1 test drive today.
Access to this article is just ONE of many benefits of TU Premium Membership.
Get access to this article, classes like "Performance on a Sip of Fuel" ($29 value), as well as this month's guest speaker all for a $1 trial, then after you've experienced the benefits of membership for yourself you won't have to do a thing and your monthly membership of just $19.95 will continue automatically. If you're not absolutely thrilled, we'll refund every penny of your money and cancel your membership.
Click the Paypal Button to Get Access!
Already a TU Premium member? Login to access this article
---
Extremely Limited Time Offer - 3 Days Only
Get a MASTERS DEGREE in Performance Tuning from the BEST in the Field for ONE low package price
For 3 days only, get ALL of our PREMIUM (not available anywhere else) Tuner University Courses featuring some of the greatest minds in motorsports:
- Top 10 Performance Myths Class (MP3 and Edited Transcript) - $29.95 value
- Performance on a Sip of Fuel Class (MP3 and class manual) - $69.95 value
- Header Design Secrets with John Grudynski (MP3 and transcript) - $69.95 value
- Dirty Secrets of Oil with Ryan Stark (MP3 and transcript) - $69.95 value
- Engine Tuning Secrets with Ben Strader of EFI University (MP3 and Transcript) - $69.95 value
Get all of the above courses (many of which not currently available anywhere else) for one single price of just $309.75 $69.95. A HUGE package savings.
You can also buy any of these individually through our resource center, but I don't know why you would as this is basically the whole store for the price of just 1 course. You'll get the MP3 recordings of each class as well as a transcript or companion manual with each course and you'll be able to download them all INSTANTLY.
Claim Yours Now
Click the button above to get yours! ($69.95, instant download)
---